Links to Further Education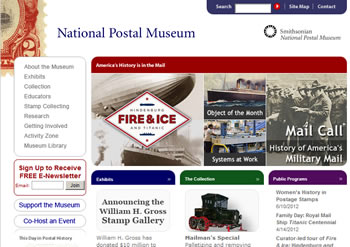 National Postal Museum
This site provides a wealth of information on philately, including a list of state societies, with links to their various websites.
Digitized U.S. Postal Bulletin
Users of this web site will find a fully searchable digitization of the U.S. Postal Bulletin from 1880 to 1971. The purpose of this publication, which first appeared in March of 1880 and continues until the present, was to itemize and explain in great deal the services the Postal Service provides, to communicate the location of these services throughout the country, and to communicate the internal business of the Postal Service.

USPS Postal Bulletins
This site provides the complete bi-weekly, archived Postal Bulletins for the Post Office Department of the most recent four years. These bulletins are the official source of updates to Postal Service policies and procedures.
Other useful places that support philately on the Web
APS and APRL
The official site of the premier philatelic society in the United States, the America Philatelic Society, and their associated philatelic library. Their site will provide a great amount of philatelic information and the services they provide to their members. Included is access to their philatelic library collection, the largest in the country, with a card catalog available online. Here you can search for materials to aid your research and borrow them directly, if you are an APS member, or though your local library by way of interlibrary loan. APS show schedules and other stamp aids online.

Confederate Stamp Alliance
The official web site for the Confederate Stamp Alliance, founded in 1935 to promote the collecting and encourage the study of the stamps and postal history of the Confederate States of America.
USSS
The official web site for the United States Stamp Society, a non-profit association of collectors to promote the study of the philatelic output of the Bureau of Engraving and Printing and of postage and revenue stamped paper produced by others for use in the United States and U.S. administered areas.
USPCS
The official web site for the U. S. Philatelic Classics Society, a not-for-profit association of people interested in the pre-1894 stamps and postal history of the United States. Their goal is to promote interest and knowledge of philately through the encouragement of philatelic research, and through exchange of information among their members as well with other philatelic organizations.
AskPhil
AskPhil (short for "Philately," or stamp collecting) is provided as a service to offer general answers to questions about stamp collecting. The Collectors Club of Chicago is the sponsor of this site. We are not affiliated with any other group, club or organization. We are not seeking funds or looking for new members. This is a 100% non-commercial website.